Back to OLEA® APP
OLEA® APP INVERTER HE OLEA® APP INVERTER HE
High efficiency and Safe Inverter/eMotor system with application software optimized for the OLEA FPCU
Highlights
The OLEA® APP INVERTER HE is a Silicon Mobility application providing a turnkey High Efficiency Inverter control including the Adaptive PWM Control (APC) and FOC/SVPWM algorithms optimized for the OLEA® T222 FPCU semiconductor.
The OLEA® APP INVERTER HE is a comprehensive suite of software components which includes :
 Inverter Application and Safety  software components (ASW)
 Inverter Complex Device Drivers (CDD)
 Basic Software components.(BSW)
Key Benefits :
Safe and Highly Efficient Inverter and eMotor Control

Up to 20% energy gain

Reduction of switching losses in Inverter up to 70%
Reduction of  Iron losses and copper losses in eMotor

30% eMotor torque/speed range increase
50% BoM reduction compared to performance equivalent solutions
ASIL-D ISO 26262 design

Support for various motor types
Key Features
Flexibility
The OLEA® APP inverter HE  offers high level of flexibility to match a wider range of targeted motor characteristics including, but not limited to:
Rotor type: Wounded rotor or Permanent magnet motor
Number of pair poles
Number of phase currents acquisitions
The motor voltage (from low voltage 12 volts to high-voltage > 400 volts)
The position sensor types (Resolver, Hall-effect )
Innovative control algorithms
High frequency Field Oriented Control (FoC) loop from 50kHz up to 250 kHz
Adaptive PWM Control (APC) based on electrical angle with optimized PWM patterns minimizing current harmonics and optimizing e-motor efficiency map directly resulting in extension of the e-motor optimal range
Soft switching of power switches to reduce transistor switching losses
System Benefits
Adaptive PWM control(APC) – Up to 20% energy gain & 30% of eMotor operating range extension
Unlike conventional MCU/DSP based solutions, the OLEA® solutions innovative Adaptive PWM Control (APC) delivers a variable PWM frequency to the inverter, dependent on the current load, electric motor angle, and inverter/motor thermal characteristics. This in turn reduces the switching of the power transistors, resulting in overall lower power consumption and increased efficiency.
Advanced algorithms
By optimizing the different operating points, our inverter control solution can increase the scope of the optimal operating points, resulting in a highly optimized efficiency map. To achieve this, OLEA APP INVERTER HE control system implements innovative modulations schemes  according to the angle, power and speed of the eMotor.
ONR: Overmodulation with Noise Reduction – Increasing the speed range in the "constant torque" area. The harmonics generated as a consequence of the overmodulation are suppressed  with our optimized PWM patterns.
SHE: Selective Harmonic Emulation – Optimizing middle speed and high speed to reduce iron losses
VPC: Volltage Based Compensation – Optimizing high speed to extend the operating range. The Voltage Phase compensation allows a better electrical angle position estimation to enable a operating range extension.
For the inverter, the Electrical Angle and Power based modulation of the APC allows Switching Event reductions and switching losses reduction of up to 70%.
Soft Switching – Real time control
Soft-switching prevents power transistor's voltage and current signals to overlap. This reduces switching losses, transistor heating and conduction losses and deliver wide-bandgap performances regardless of the power technology in use.
Soft-switching algorithms enables a x5 switching frequency increase to extend the eMotor operating range while cancelling power transistor's losses.
Soft-switching enables doubling of current rating  to reduce transistor size and cost by a factor of 2.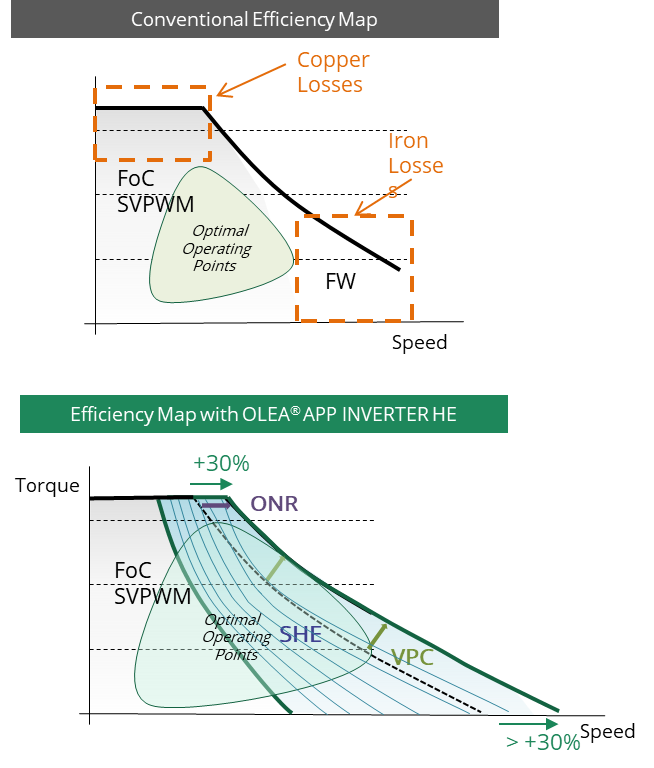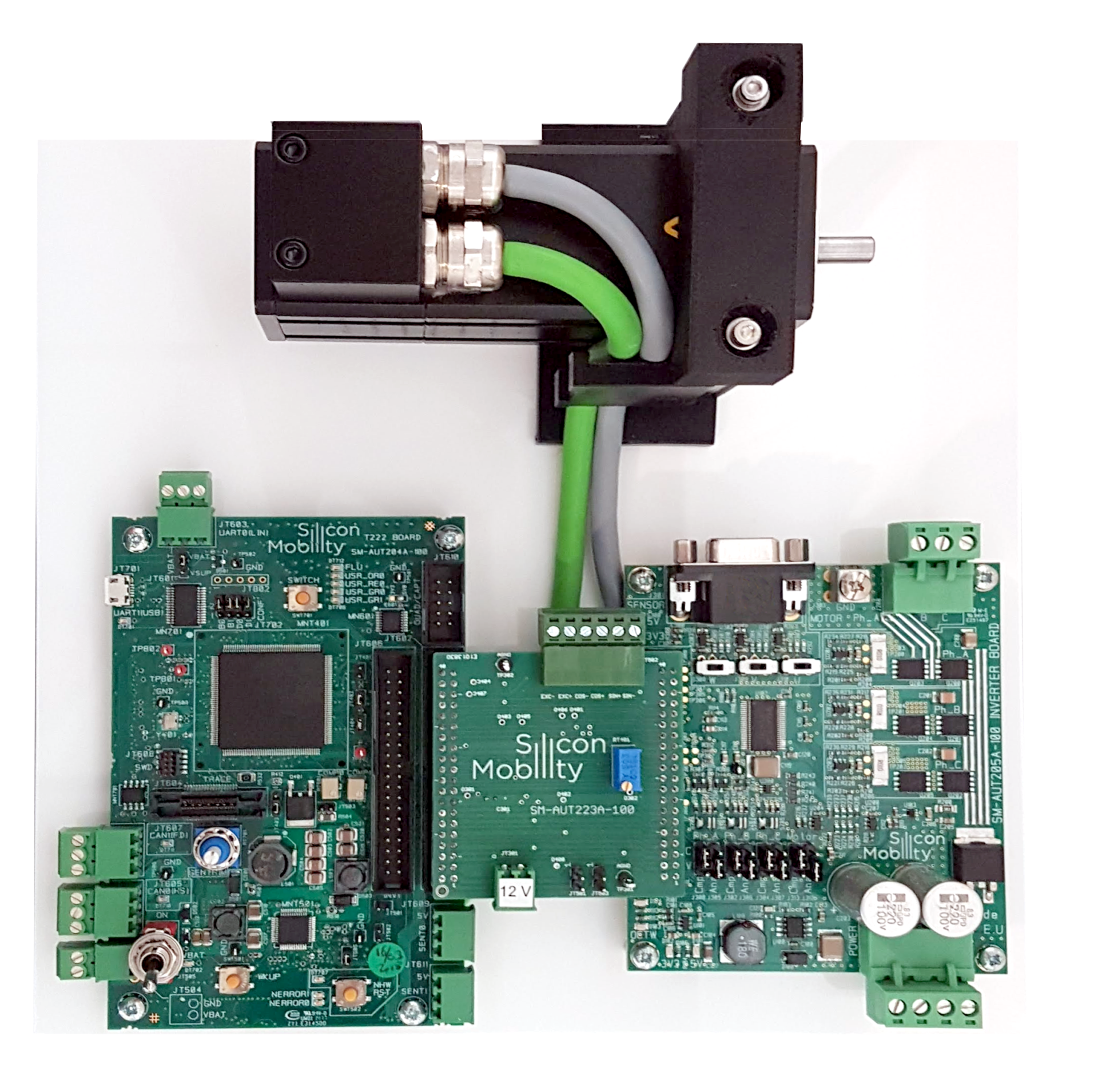 Key Deliverables
We deliver a complete package including :
Inverter Application (ASW), Complex Device Drivers, and Safety software
Evaluation boards and OLEA® T222 INVERTER STARTER KIT
Safety work products
Reference designs
Consultation with our in-house experts throughout the customer design cycle
Compliance with AUTOMOTIVE Standards 
A Fully automotive qualified solution supporting a wide range of motors and phases
OLEA® FPCU –  AEC-Q100 Qualified
Manufacturing based on a ISO-TS16949 Foundry
Design framework & tooling compatible with the Automotive ecosystem and the AUTOSAR requirements