Turnkey Application for the Control of Inverter and Electric Motor
Safe inverter and e-motor control
Dedicated to Hybrid and Electric Vehicles applications
Support Low and High Voltage systems
Highly customizable  and quickly configurable to fit any inverter and e-motor
Integrated safety and ASIL-D ISO 26262 ready
Highlights
OLEA® APP INVERTER ED is a turnkey software application for the control of inverter and electric motor control, and optimized for the OLEA® FPCU.
OLEA® APP INVERTER ED integrates all the necessary functions for a safe torque or speed regulation of electric motor control. The software is architecture around a core application including the current control loop, the position and speed measurement and the SVPWM modulation. Several customizable modules are available to interface any system configuration such as power transistors, gate drivers type, e-motor topology, position sensor and faults management.
OLEA® APP INVERTER ED software interface is compliant to AUTOSAR 4.3 and is packaged as an application level function with dedicated Complex Device Drivers (CDD) and low-level drivers. The software is accessible either as source code license or object code license.
Customizable Enabling the Control of any e-Powertrain System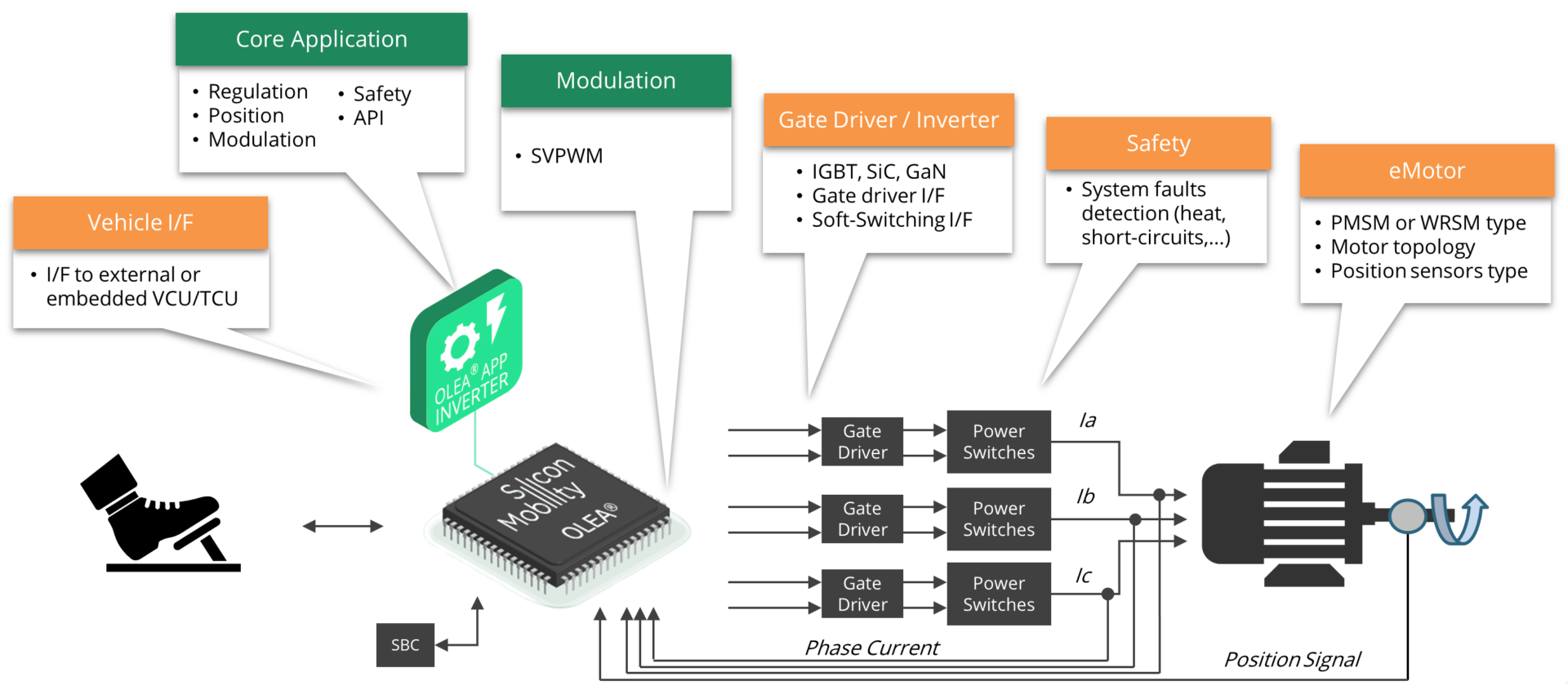 Key Features
State-of-the-Art Algorithms
Field Oriented Control (FoC)
Space Vector PWM (SVPWM)
Position Tracking Loop
Inverter/e-Motor Topologies
The OLEA® APP INVERTER ED can be customized to control a wide range of inverter/e-Motor characteristics
Compatible with all power transistor technologies (MOSFET, IGBT, SiC and GaN) and all e-Motor voltages (<60V and > 60V)
Support any types of e-motor (PMSM, WRSM and more)
Support all number of pair poles (1, 2, 4, 8 and more)
Support 3 or 6 phases current acquisition
Compatible with all types of position sensor (Resolver, Hall effect)
Can be interfaced with external or embedded CVU/TCU
Key Deliverables
Complete package including:
MATLAB Simulink Target Model
Application level functions for high level control of the eMotor and Safety functions
Complex Device Driver (CDD) for fine control of the e-motor/ Inverter and Safety mechanisms
Low-level drivers of FPCU hardware resources
User's guide including detailed API functions description for fast integration into vehicle dependent software.
Safety work products
Consultation with our in-house experts
Software interface is compliant with AUTOSAR 4.3 requirements
Starter Kit for Rapid Prototyping
OLEA® COMPOSER – T222 HVIC Starter Kit is a complete and high performance hardware and software solution to evaluate OLEA® technology and rapidly start system integration development. It includes:
The Starter Kit includes:
OLEA® COMPOSER HVIC Control Board: a hardware control board based on OLEA® T222 FPCU. The board is a reference design not qualified, delivered with schematics and BoM.
OLEA® APP INVERTER ED + Functional Vehicle Dependent Software: binary pre-flashed on OLEA® T222 FPCU
Functional Vehicle Dependent Software demo code includes:

Remote Control Unit, XCP interface via CAN-FD
Diagnostics Interface,
Basic system services inc. scheduler and CAN comm.

Post-build Measurement, configuration, calibration and firmware update GUI software for PC Windows.
User's guide for a fast configuration and calibration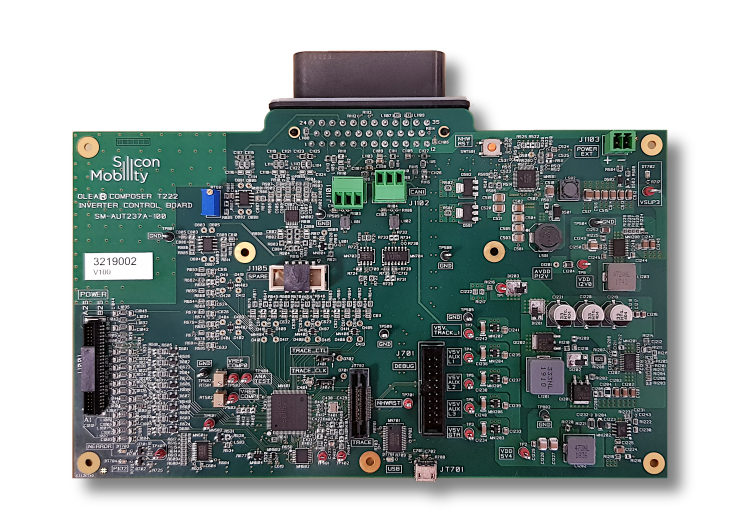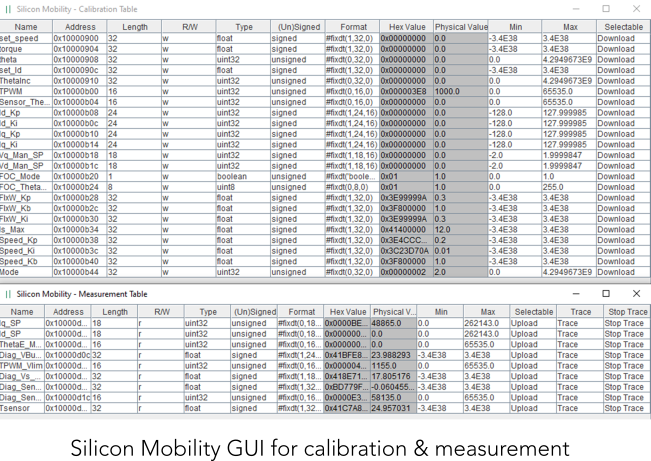 Calibration
The control, calibration and measurement of OLEA® APP INVERTER DE parameters can be done either using Silicon Mobility Graphical User's Interface or any 3rd party tool compliant with ASAM A2L format.
Silicon Mobility GUI is interfaced via USB and/or CAN port using CAN XCP protocol.
OLEA® APP INVERTER ED supports Vector CANape and Vector CAN interface (VN1610/VX1000) using CAN XCP protocol.