Today, Silicon Mobility is unveiling its roadmap, introducing the highly anticipated OLEA U Series.
In 2016, Silicon Mobility stood as a precursor by unveiling an innovative automotive controller chip engineered and designed to meet the emerging demands of vehicle electrification. At that time, the sales of electric cars were only 0.5% of the global vehicle market, reflecting a growing demand for sustainable mobility.
Then, conventional microcontrollers, the backbone of all automotive control systems, proved to be inadequate and de-adapted to the evolving landscape. These chips were optimized for thermal engine control and their numerous sensors, actuators, complex timing sequences and low reaction time and real-time processing needs. Recognizing the urgent necessity for change in the automotive semiconductor, Silicon Mobility re-envisions the very foundations of control systems for electrified, autonomous, and connected vehicles. Starting from a blank piece of paper, our goal extended beyond controlling electric motors or power electronics, we sought to enhance the efficiency and performance of vehicles while ensuring the highest level of safety.
The answer did not only lie in the hardware area but in a tight and smart combination of embedded software and hardware. From this point forward, a unique approach was taken, crafting algorithms and architectures to suitability. Silicon Mobility assembled a team of experts specializing in System-on-Chip design, embedded software, and power electronics systems, uniting their skills to develop a holistic solution.
Out of this collaborative effort emerged what is known as the Field Programmable Control Unit (FPCU), a groundbreaking achievement in automotive control technology. By fusing a central processing unit (CPU) combined with Flexible Logic Unit (FLU), digital signal processing (DSP) accelerators, and mathematical co-processors, the FPCU becomes the first control chip to offer a heterogeneous processing platform with a hybrid architecture. This platform, unified under a single model-based design development environment, was a game-changer.
Previously constrained by the limitations of traditional microcontrollers, the advanced control algorithms and heavy computations thrive in the FPCU. The chip could allocate tasks efficiently across its diverse processing resources. The CPU, with its versatility, handled general tasks. Mathematical co-processors took charge of fast calculations, from trigonometric functions to matrix multiplications. Programmable logic (FLU) and DSP units stepped in for real-time, compute-intensive tasks. The result? The possibility of controlling an inverter and e-motor at a stunning 250kHz Field-Oriented Control with zero CPU intervention.
This breakthrough, made possible by the OLEA T222 FPCU in 2016, signified not just a technological milestone but a profound shift in the automotive industry's approach to control systems. Silicon Mobility's relentless pursuit of innovation and our ability to think beyond the constraints of the present set a new standard for automotive control, promising a future where vehicles are not just electric but also smarter, safer, and more efficient.
A new generation
For the last couple of years, Silicon Mobility has been actively working on the OLEA U FPCU series, the 2nd generation of FPCU, which is now available to lead customers. By leveraging the technological success of the first-generation OLEA T222 FPCU, our team of experts carved out a stronger, faster, safer and secure FPCU.
The OLEA U FPCU series has been built to address current and future needs in the automotive industry for real-time, safe, and secure control applications and functions grouping, including advanced control algorithms based on edge A.I. with protection against post-quantum cybersecurity threats.  It is setting new standards in processing speed and capabilities, in function integration.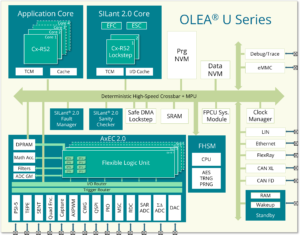 The OLEA U Series introduces news and enhanced features:
Advanced eXecution and Events Control (AxEC 2.0), a data processing and real-time control unit based on programmable hardware and configurable peripherals supporting multiple parallel applications execution thanks to multi-FLU (Flexible Logic Units) clusters.
Safety Integrity Level agent (SILant 2.0), a set of units and functionalities dedicated to the FPCU and the system functional safety. This new generation has a deterministic multi-core and multi-FLU cluster, which guarantees worst-case execution time and nano-second reaction.
Flexible Hardware Security Module (FHSM), a sub-system dedicated to the cybersecurity of the FPCU integrating encryption/decryption accelerators and identification key management. It is combined with a hardware programmable cluster enabling to support yet unidentified threats and strengthen security.
Multi-core CPU and virtualization, a variable number of ARM Cortex-R52 clusters for multiple applications/functions executions into a single controller.
In follow-up articles, we will review the fundamentals of the FPCU architecture and its advantages, detail further each of the new features, and see how the OLEA U Series enables the design of safe, secured, and hard-real time control applications.
Press contact
For more information on Silicon Mobility and the OLEA product suite
Contact us