SiC Intelligent Power Modules & Inverter Platform by CISSOID: Unveiled at APEC 2023 with Silicon Mobility solution
Our partner, CISSOID, will be exhibiting their SiC Intelligent Power Modules & SiC Inverter platform at the upcoming APEC (Applied Power Electronic Conference) event next week, which proudly incorporates our OLEA solution. We are thrilled about this collaboration as it addresses a highly expected need from automotive players and many other industries in the electrification transition: an intelligent power module that enables system engineers to achieve substantial improvements in size, weight, and efficiency for motor drives.
If you're interested, we encourage you to visit booth 821 to learn more and meet with the experts from CISSOID.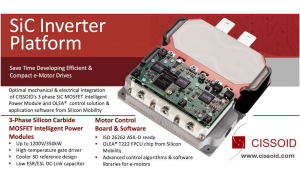 Press contact
For more information on Silicon Mobility and the OLEA product suite
Contact us