Key Features
Safe and Highly Efficient inverter and e-motor Control

Up to 20% energy gain by losses' reduction:

Reduction of switching losses in inverter up to 70%
Reduction of  iron losses and copper losses in e-motor

30% eMotor torque/speed range increase
Single chip solution delivering +50% BoM reduction
Integrated safety and ASIL-D ISO 26262 design

Customizable to support any ePowertrain system configuration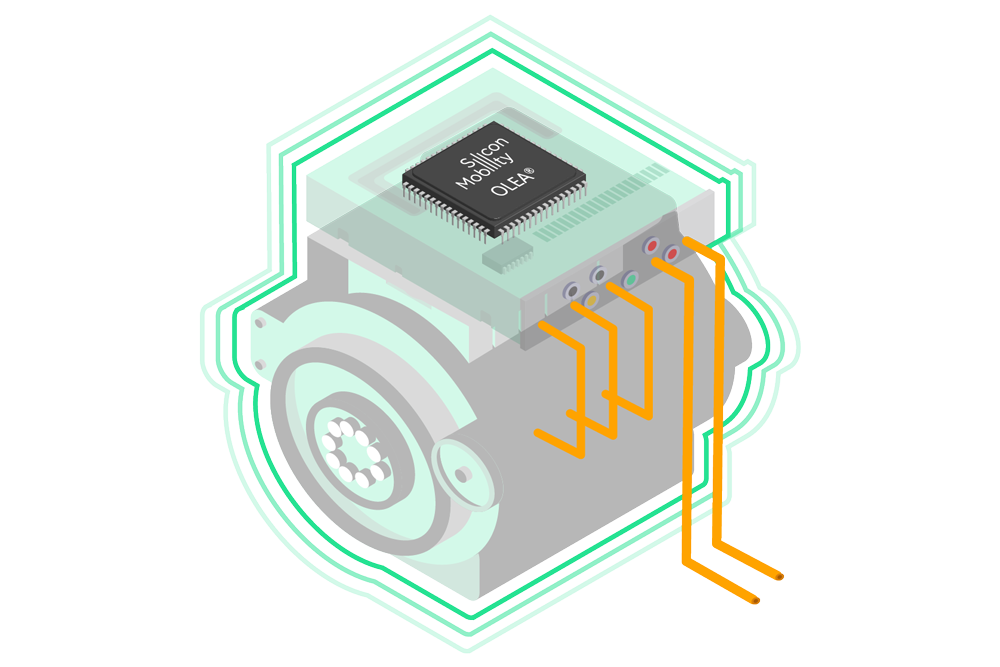 Application for the Control of Inverter and e-Motor Delivering the Highest Energy Efficiency
The OLEA® APP INVERTER HE is a turnkey software application for the control of inverter and electric motor delivering the highest level of energy efficiency and optimized for the OLEA® FPCU.
OLEA® APP INVERTER HE integrates all the necessary functions of safe torque or speed regulation or electric motor control. The software is architecture around a core application including unique adaptive algorithms which apply the most suitable control strategy upon requested power, motor angle, and speed. OLEA® APP INVERTER HE cuts energy losses into the power switches and into the electric motor while extending the operating range of the e-Motor. Simulations on a WLTP** cycle demonstrate an energy gain of up to 20% when compared to inverter/e-Motor controlled by incumbent multi-core microcontroller-based applications.
OLEA® APP INVERTER HE has several customizable modules to interface any system configuration such as power transistors, gate drivers' type, e-motor topology, position sensor, and faults management. The software interface is compliant with AUTOSAR 4.3.
Customizable to Enable the Control of any e-Powertrain System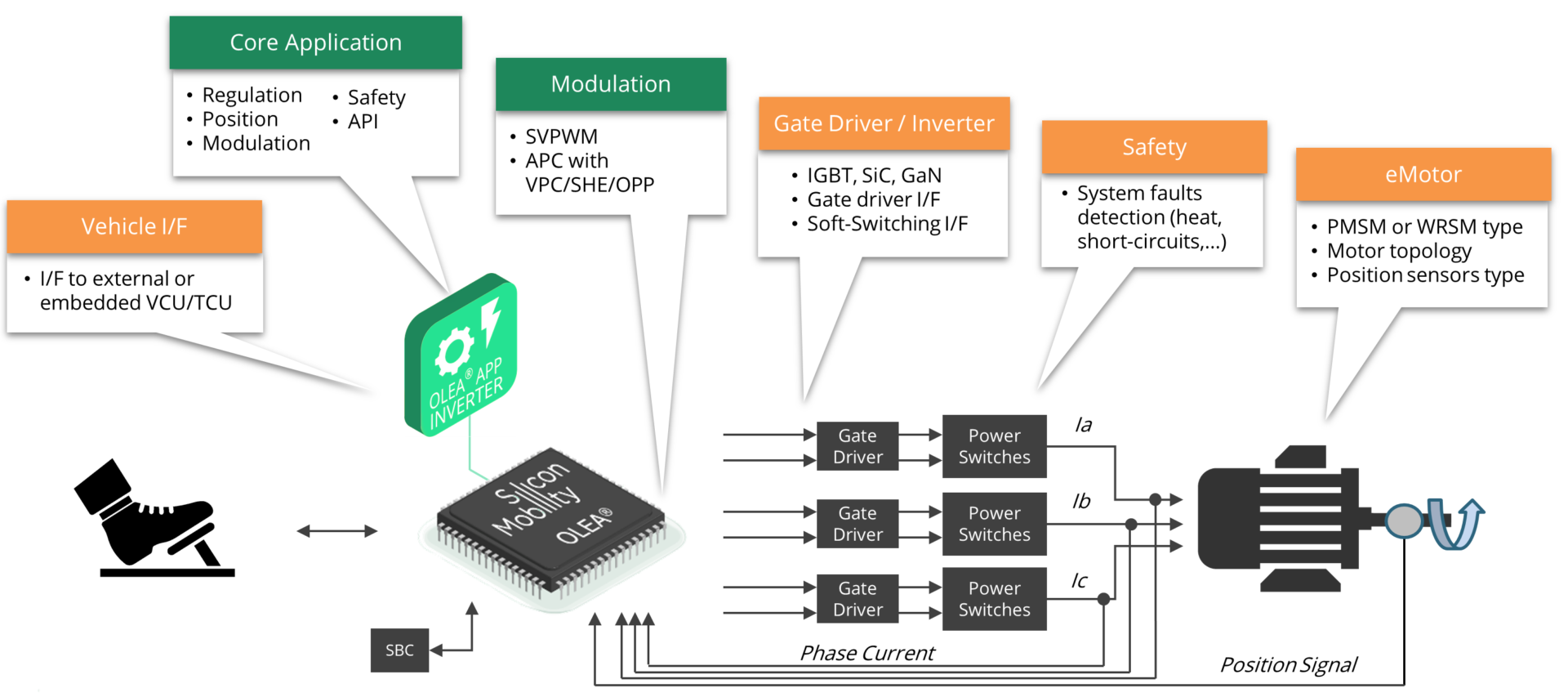 Key Features
Advanced control algorithms
Field Oriented Control (FoC)
Adaptive PWM Control (APC)
Space Vector Modulation (SVPWM)
Optimized Pulse Pattern (OPP)
Overmodulation with Noise Reduction (ONR)
Selective Harmonic Elimination (SHE)
Voltage Phase Compensation (VPC)
Soft-switching of power switches.
Inverter/e-Motor Topologies
The OLEA® APP INVERTER HE can be customized to control a wide range of inverter/e-Motor characteristics
Compatible with all power transistor technologies (MOSFET, IGBT, SiC and GaN) and all e-Motor voltages (<60V and > 60V)
Supports any type of e-motor (PMSM, WRSM and more)
Support all numbers of pair poles (1, 2, 4, 8 and more)
Support 3 or 6 phases current acquisition
Compatible with all types of position sensors (Resolver, Hall effect)
Can be interfaced with external or embedded CVU/TCU
System Benefits
Adaptive PWM control(APC) – Up to 20% energy gain & 30% of eMotor operating range extension
The Adaptive PWM Control (APC) reduces energy losses of both the inverter and the electric motor power stages while mitigating Noise, Vibration and Harshness effects.
Based on the electrical angle position and the requested power (Torque x Speed), APC orchestrates several advanced algorithms to suppress useless switching events on the inverter and to improve the e-Motor Torque/Speed operating points. These advanced algorithms are:
Optimized Pulse Pattern (OPP) – Offline and online calculated switching patterns reducing inverter losses, including SHE.
Selective Harmonic Elimination (SHE) – Eliminate Harmonics to reduce iron losses and NVH effects.
Overmodulation with Noise Reduction (ONR) – Increases the speed range and reduces the copper losses in the "constant torque" area. The harmonics generated as a consequence of the overmodulation are suppressed with APC.
Voltage Phase Compensation (VPC) – Better correct the magnetic angle of the e-Motor to extend its operating range and to better reduce iron and copper losses.
Impact of algorithms per type of losses:

Soft Switching – Real time control
Soft switching prevents power transistor's voltage and current signals from overlapping. This reduces switching losses, transistor heating, and conduction losses and delivers wide-bandgap performances regardless of the power technology in use.
Soft-switching algorithms enable an x5 switching frequency increase to extend the eMotor operating range while canceling power transistor's losses.
Soft switching enables doubling of the current rating  to reduce transistor size and cost by a factor of 2.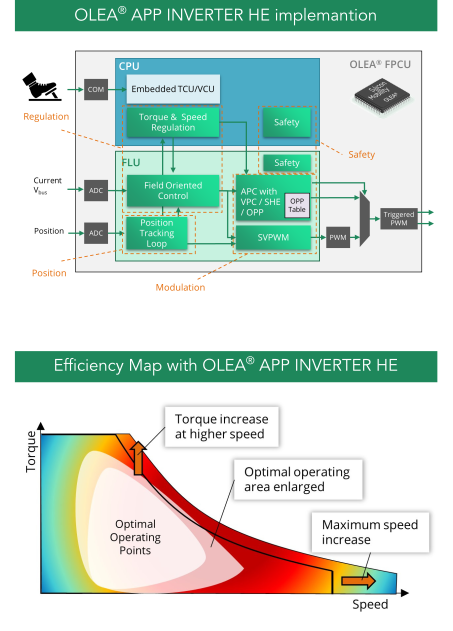 Key Deliverables
A complete package including:
MATLAB Simulink Target Model
Application-level functions for high level control of the eMotor and Safety functions
Complex Device Driver (CDD) for fine control of the e-motor/ Inverter and Safety mechanisms
Low-level drivers of FPCU hardware resources
User's guide includes detailed API functions descriptions for fast integration into vehicle dependent software.
Safety work products
Consultation with our in-house experts
Software interface is compliant with AUTOSAR 4.3 requirements