Back to OLEA® APP
OLEA® APP DC-DC HE OLEA® APP DC-DC HE
Highly efficient application software module optimzed for OLEA®️ FPCU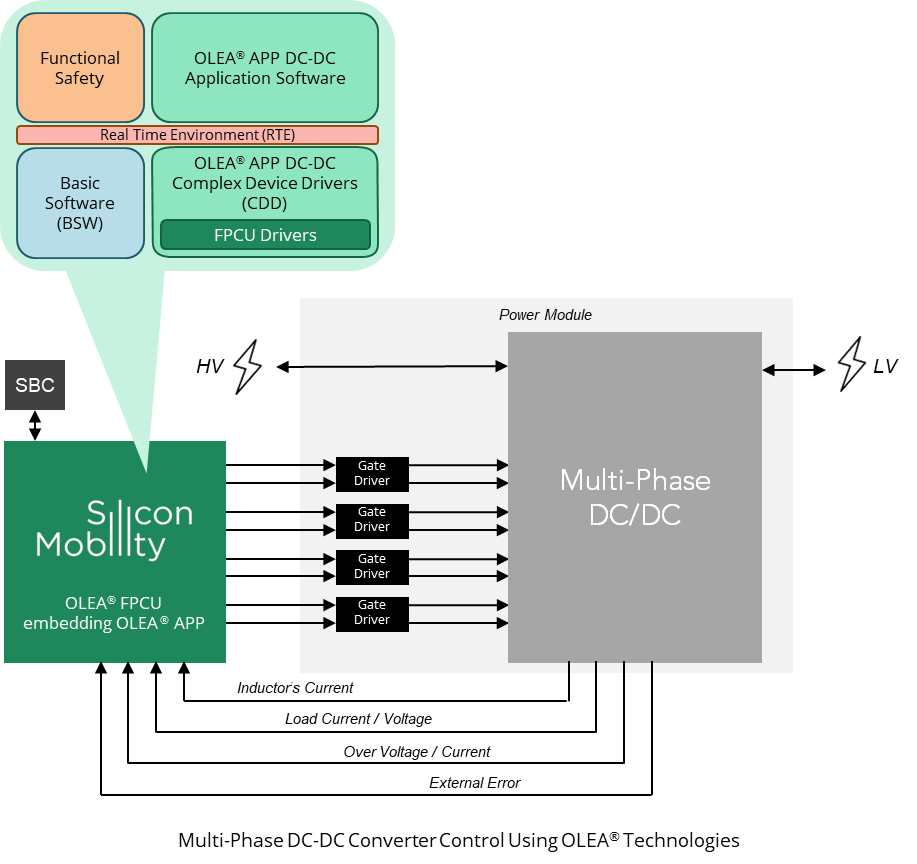 Highlights
The OLEA® APP DC-DC HE is a Silicon Mobility application providing a turnkey High Efficiency DC-DC converter control including the support for a high frequency control loop, phase shedding and soft switching .
The OLEA® APP DC-DC HE is a comprehensive suite of software components which includes:
 DC-DC converter Application and Safety  software components (ASW)
 DC-DC coonverter Complex Device Drivers (CDD)
 Basic Software components.(BSW)
Key Benefits:
15% of energy gain

Reduction of switching and conduction losses in the power module all across the load operating points

50%  of transistor current rating increase
50% BOM reduction on the requested power transistor and passive components
Up to 1MHz control supporting size and weight reduction up to a factor 10 (Power density improvement by factor 10)
ASIL-C ISO 26262 design
Support for various DC-DC topologies
Key Features
Flexibility
The OLEA® APP DC-DC HE  is flexible enough to match the targeted DC-DC converter topology. Some of the key system features include, but not limited to:
Isolated or Non Isolated
Number of phases
Bidirectional or Non bidirectional current flow
Buck-Boost
Circuit breaker control
Input/output voltage (from low voltage 12 volts to high-voltage > 400 volts)
Innovative control algorithms
High frequency Independent current control loop up to 1 MHz
Soft-switching of power switches to reduce transistor switching losses and to improve the current rating
Independent current control loop
Phase shedding
System Benefits
Parallel control of the Phases
The OLEA® APP DC-DC HE  leverages the  FPCU parallel architecture to achieve independent and parallel  DC-DC phase current control. The independent current control enables higher efficiency and reliability of the DC-DC control systems,
Phase Shedding and load management with smooth activation and deactivation of phases
The OLEA® DC-DC converter application implements an innovative phase shedding/adding mechanism, which dynamically controls the different phases, based on the current load.The Phase shedding/adding control dynamically triggers a smooth activation and deactivation of the phases to maximize the efficiency across the current range and load in the system configurable with programmable threshold currents in each phases.
Soft Switching
Soft-switching prevents power transistor's voltage and current signals to overlap. This reduces switching losses, transistor heating and conduction losses and deliver wide-bandgap performances regardless of the power technology in use.Soft-switching algorithms enables a x5 switching frequency increase to extend the eMotor operating range while cancelling power transistor's losses.Soft-switching enables doubling of current rating to reduce transistor size and cost by a factor of 2
Key Deliverables
We deliver a complete package including :
DC-DC Application (ASW), Complex Device Drivers, and Safety software
Safety work products
Reference designs
Evaluation boards
Consultation with our in-house experts throughout the customer design cycle
Compliance with AUTOMOTIVE Standards
Fully automotive qualified solution supporting a wide variety of DC-DC topology
OLEA® FPCU –  AEC-Q100 Qualified
Manufacturing based on a ISO-TS16949 Foundry
Design framework & tooling compatible with the Automotive ecosystem and the AUTOSAR requirements